Albanian Dreamin' 2022
28 May 2022 @ 10:00 am

-

5:00 pm

UTC+1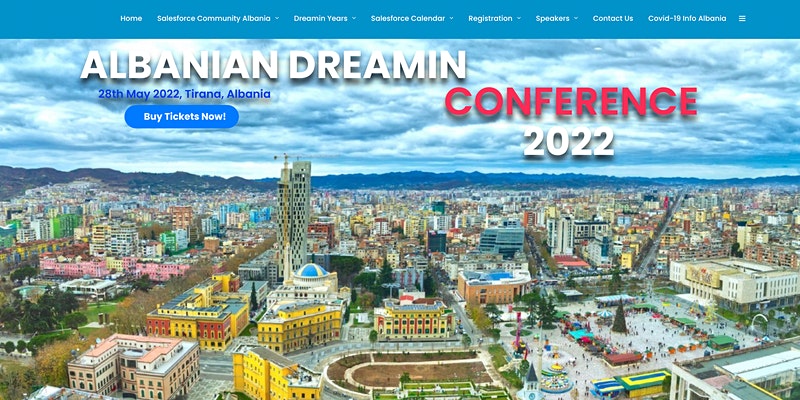 Albanian Dreamin' 2022 – Fostering Technology Innovation through Salesforce Community Powered Programs and Building Bridges by the Trailblazer Community Globally
Albanian Dreamin' is organized from Salesforce Trailblazer Community Groups Albania and Leadership Development Association Balkan for the third year in a row with a common vision that empowers young people in Salesforce programs, through collaboration, education, networking and knowledge sharing to strengthen the workforce and professionalism in the country. 
Albanian Dreamin' Conference every year brings a new innovation, AppExchange and Demo Jam are the two features of this year which remain to be seen on the day of the conference (28May 2022).
International Conference hosted in Tirana, Albania!

12 VIP speakers from 10 countries!

Powered by Salesforce Community Albania & LDA Balkan!

1 Conference, 300+ attendees, 15 Countries!
This international conference is bringing to Albania 12 VIP worldwide speakers from 10 different countries, and we are honored to presents them:
Marissa Dimino Burns – Senior Community Manager at Salesforce (USA)
Keynote Speaker – The power of Trailblazer Community 
Scott Allan- Sr. Manager, Product Strategy at Salesforce (USA)
Turn Feedback into Features: Voice of the Customer Lessons from Salesforce 
Frédérique Mounier- Solution Architect at The Adecco Group | Salesforce Golden Hoodie (France)
Bridging the gap for reskilling and new Ohana members
Neil Buen – Salesforce MVP | Solution Architect at A5 Canada 
From Customer Service Rep to Salesforce Architect: My Journey from Philippines to Canada
Vincenzo Scolavina – Delivery Manager & Enxhisa Bici – Salesforce Developer (Italy)
A success story on Fintech Area "Banca Progetto" 
Jakub Stefaniak – Director of Engineering EU, Salesforce CTA (Poland)
Salesforce Certifications: the path to Certified Technical Architect (CTA) 
Anna Walach-Dudzic – Salesforce Solution Architect at Aquiva Labs (Poland)
Salesforce DevOps Maturity Matrix
Robin Marshall – Salesforce Product Manager at MyWage | Payroll Expert (UK)
Salesforce AppExchange Demojam – MyWage app
Enisa Kadrii – Conference Presenter | Principal – North Macedonia
Our amazing employee spotlight panel:
Dorian Kane

  – Salesforce Consultant at iKons Albania

Sara Sali

– Lead Salesforce Developer

Denisa Cekrezi

– Contract Technology Specialist

Drini Plaku

– Salesforce Technical Manager

Brisilda Hitaj

– Salesforce Admin & Business Development Specialist
"We believe that this Conference plays a crucial role in helping young individuals realize their potential, work with the potential of young people and give them an opportunity to become a leader and creator of changes in his / her community to live in a world where the younger generation will apply the skills of change to solve the complex problems of our societies."
Useful links:  
LDA BALKAN – Leadership Development Association
Facebook LDA: @LDA.BALKAN
Website LDA: https://lda.al/
        Salesforce Trailblazer Community
Facebook: @salesforce.albania
Website: https://dreamin22.sfalbania.al/#