"The Road to Success" by Vasil Naçi returns in November
19 November 2021 @ 8:00 am

-

5:00 pm

UTC+1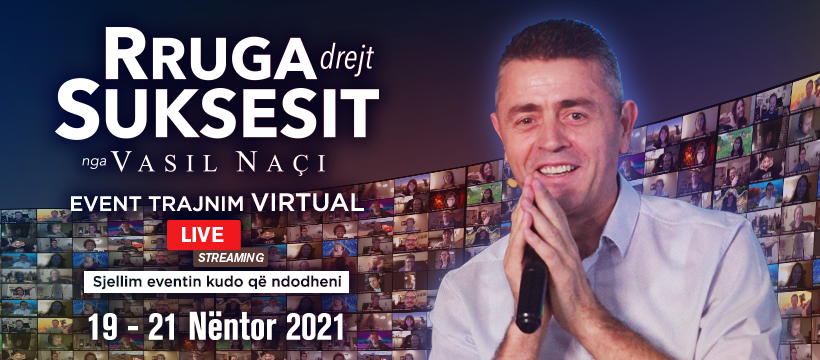 "The Road to Success" by Vasil Naçi returns this November. The biggest event in the region (virtual) dedicated to those who want to be winners on every challenge, and take themselves to a higher level.
The times we live in are both challenging and exciting. The only way to achieve more is to invest in growing yourself. Therefore, "The Road to Success" continues without stopping AS A UNIQUE OPPORTUNITY to consolidate the mentality and the right steps for success in life.
Three days dedicated to your transformation, that aim to increase the quality of your life and push you to achieve your dreams.
Challenge your current situation and aim for your maximal potential!
"The Road to Success" is an annual training program with more than 12,500 participants since 20I6, organized as part of social responsibility and contribution to the community.
Ideated as an experiential training event, this program was created after numerous requests from individuals and members of communities near local businesses and enterprises, to benefit from the knowledge, models, and successful practices created and addressed during the activity of Agna Leadership Academy.
Overcoming the challenges faced by the whole globe, "The Road to Success" comes in a new format. Now "Live" in the online version, any of us, in any corner of the world, in the comfort of the environment where they are, can benefit from the value that "The Road to Success" brings.
Success is not accidental. Increasing knowledge and their rigorous implementation will bring major changes in the quality of your life and the achievement of objectives. Therefore, success in personal life and business is achieved if we cultivate progressive beliefs, constant motivation, harmony with ourselves, family, and organization, as well as provide the right tools and systems for continuous progress.
"The Road to Success" is a unique program, which enables increased control over the most important areas of life, from health, emotions, relationships, career, finances, to time management. The Road to Success summarizes in 3 days, tens of years of experience, lessons, successes, and the world's best practices. The Road to Success has the potential to radically transform the experience of your everyday life. "The road to success" will motivate you to seek more out of life, focusing on personal and professional development, realizing that "magic" happens by itself if we break free from the "chains" of obstructive beliefs, begin to act, and live according to the real potential.
In the event-training "The Road to success," you will get acquainted with some of the reasons why you think, feel, and behave as you do now. This program aims to help anyone who wants more out of life. You do not always own what happens in life. However, you are the ones who control how much influence you will allow reality to have in your life, now or even in the future. If someone constantly invests in himself, clarifies his dreams, has a desire, has strong reasons, self-confidence, and is committed to living life as imagined, sooner or later he will succeed. It all starts within ourselves. There is no better time than NOW, to start or strengthen your journey towards a life as you wish.
Save these three days in your calendar November 19, 20, and 21.
Buy your ticket HERE.